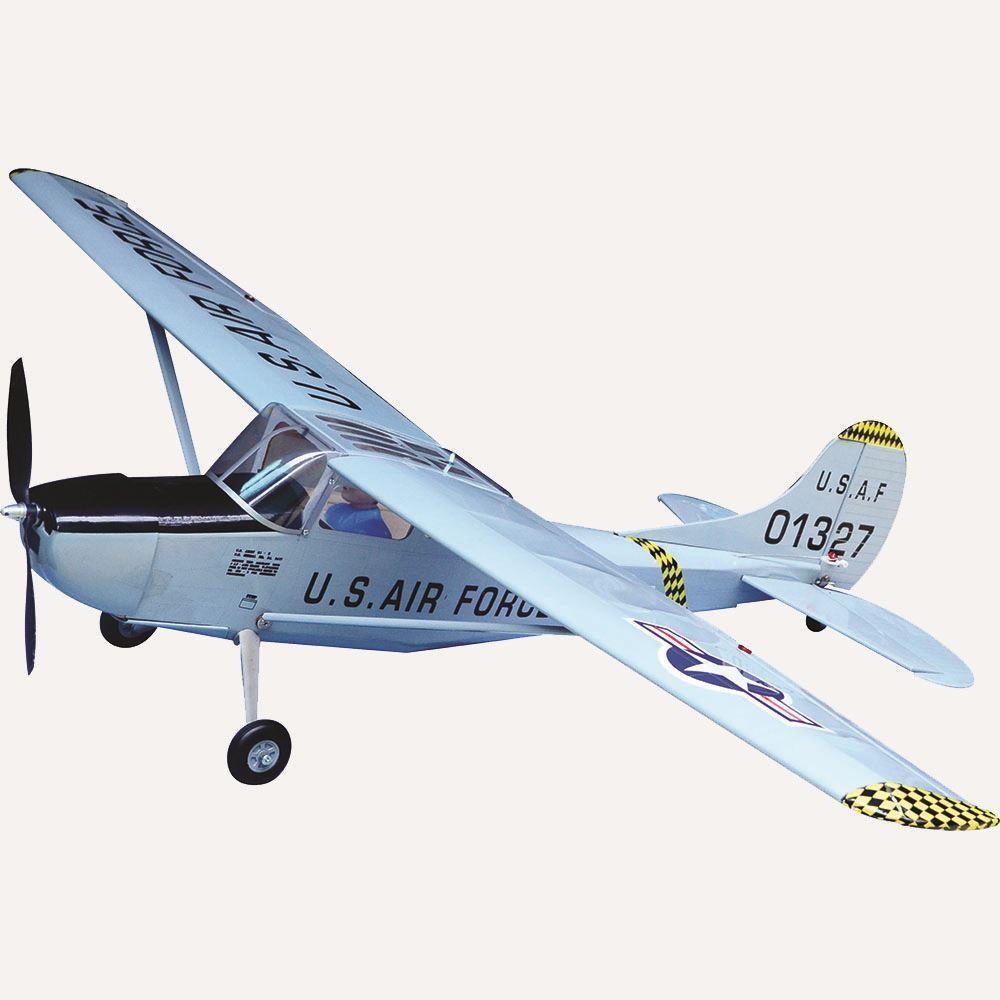 VMAR Cessna L-19 Birddog USAF EP ARF Kit - Grey (49" Wingspan)
Quick View
VMAR L-19 Bird Dog - Military Scale Nostalgia. Dressed in scale military livery, VMAR introduces the nostalgic Cessna L-19 Bird Dog in two different military trims for exceptional scale definition...

Vendor: VMAR
VMAR L-19 Bird Dog - Military Scale Nostalgia.

Dressed in scale military livery, VMAR introduces the nostalgic Cessna L-19 Bird Dog in two different military trims for exceptional scale definition that looks great on the ground and in the skies above. Constructed of a solid balsa and ply layup, the VMAR L-19 Bird Dog is an exact scale representation of the 19050's era L-19 Bird Dog, which provided the perfect observation / communication platform for the United States army.

Spanning 49" from tip to tip, the VMAR L-19 offers exceptional scale flight characteristics, with excellent low speed maneuverability & predictable stall performance. Amiable in character, the L-19 is rugged and tough, with its smaller size making it the perfect plane for limited area locales, such as fields, parks and smaller landing strips.

Incredibly easy to build with a bolt together, no glue assembly process, the L-19 Bird Dog requires minimal work, with a (3) to (5) hour assembly process. Fully covered in a Polycote ECS covering, the VMAR L-19 Bird Dog makes the entire build process a simplified affair, allowing you to spend less time assembling the aircraft and more time at the field and in the air.

Utilizing one servo per aileron for maximum precision and control, the L-19 Bird Dog was designed for electric power, making this plane incredibly easy to setup and maintain. Offering excellent bang for your buck value, the L-19 Bird Dog is ultra low in cost, and requiring minimal equipment to get in the air, equating to a full up build far less than comparable aircraft. Further this with a 2 piece wing that allows easy transport and storage, the L-19 provides is easier than ever to manage in the hangar or at the field.

Easy to fly with excellent levels of scale detail and quality, the VMAR L-19 Bird Dog is the perfect choice for beginner to advanced pilots, offering gentle flying qualities with scale realism that will be appreciated by all.


Features:

Vivid Polycote ECS Covering
Pre-Covered with No Decal Application Necessary
Constructed with High Quality Balsa & Ply Materials
Robust Landing Gear System
Rapid Bolt Together, No Glue ARF Assembly Process
Two Piece Wing System for Ease of Transport & Storage
Electric Ready
One Servo Per Aileron for Maximum Precision & Control
Full 4 Channel Control

Included:

(1) VMAR L-19 Bird Dog Kit
(1) Landing Gear System with 50mm Main Wheels / 25mm Tail Wheel
(1) Full Instruction Manual

Required for Flight:

(1) 4+ Channel Transmitter
(1) 4+ Channel Receiver
(4) Micro Servos (2 Ailerons, 1 Elevator & 1 Rudder)
(1) Electric Motor
(1) ESC
(1) Propeller Matched to Motor

Specifications:

Wingspan: 49" (1204mm)
Wing Area: 325 sq. in. (21 Dm2)
Length: 33" (840mm)
Weight: 1.9 lbs. - 2 lbs. (850g - 950g)
Motor: 350W - 450W
Servos: (4) Micro Servos
Battery: 3S 11.1V - 4S 14.8V (2000mAh - 3000mAh)

Warranty Details:

All VMAR kits are trial fit at the factory and inspected to be free from defects & flaws in both material and craftsmanship at date of purchase. Warranty does not cover any components or parts damaged by use or modification. The pilot takes full responsibility for inspection of aircraft before and after each flight, making sure the aircraft is in flight worthy condition relating to safe control of aircraft. Warranty does not cover crash damage or failure of ancillary components unrelated to the aircraft.
People who bought this product, also bought