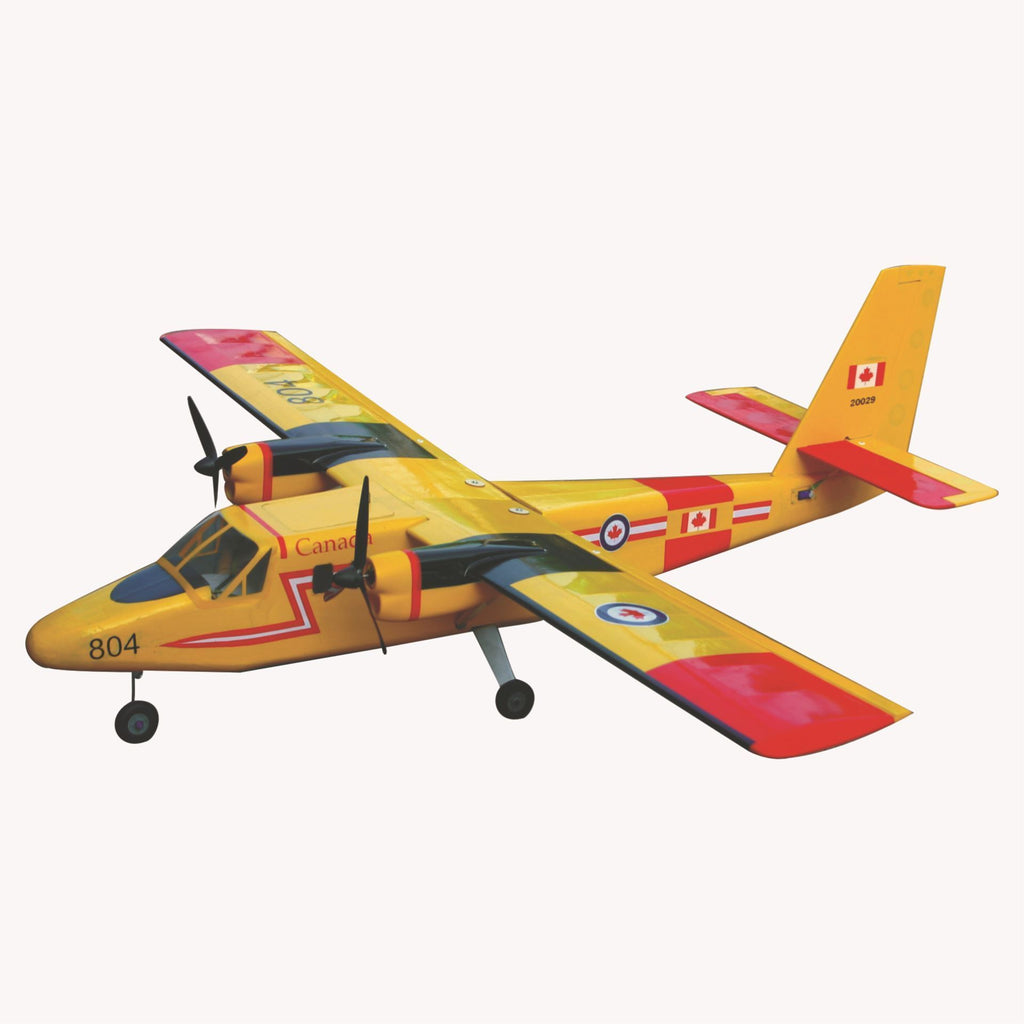 VMAR DHC-6 Twin Otter EP ARF Kit (60.5" Wingspan)
Quick View
VMAR DHC-6 Twin Otter - Twin Engine Scale Perfection.Developed in 1965 via de Havilland Canada, this twin turbine DHC-6 was developed as the perfect STOL (Short Take Off and landing)...

Vendor: VMAR
VMAR DHC-6 Twin Otter - Twin Engine Scale Perfection.

Developed in 1965 via de Havilland Canada, this twin turbine DHC-6 was developed as the perfect STOL (Short Take Off and landing) aircraft to meet the demanding needs of commuter flight in the most hostile locales known to mankind. Rugged in design, the DHC-6 Twin Otter is a purpose built brute, capable of operating well beyond typical aircraft constraints and limitations. A testament to its superior capability, the DHC-6 holds the title of the only known aircraft to perform a South Pole rescue operation in brutal -60 degree freezing temperatures, setting apart this astonishing aircraft that is still in service to this very day.

Brought to life in epic form, VMAR brings scale detail to the fore, offering the DHC-6 Twin Otter in its native Canadian livery via vivid Polycote ECS covering that is pre-applied and ready to be built. Utilizing a bolt together, no glue assembly process, the DHC-6 Twin Otter can be assembled in hours, with an incredibly easy build process due to its simplified and time saving ARF design.

Utilizing a two piece wing design for ease of transport and storage, the DHC-6 utilizes full span ailerons driven by (1) servo per aileron for maximum levels of precision and control. Spanning 60.5" in length with a stable high wing design, the DHC-6 offers benign flying characteristics, with scale flight maneuverability and performance bolstered by twin brushless power.

Incorporating a durable balsa and ply construction, the DHC-6 Twin Otter utilizes a rugged scale tricycle landing gear that is ready for unimproved airstrips, with a twin motor system that offers incredible levels of power & performance. Designed for twin brushless motors as the power system of choice, the Twin Otter draws from its full scale twin turbine counterpart, providing epic levels of thrust for true STOL capability.

Unparalleled in design and capability, the VMAR DHC-6 Twin Otter offers epic levels of scale detail, paired with an ultra wide flight envelope due to its high wing, twin brushless motor design. Robust and ready for STOL flight, the DHC-6 is stunning from every angle, offering scale perfection in a brilliant ARF package.


Features:

Twin Brushless Layout for Optimal Scale Performance
Rugged Scale Landing Gear for Unimproved Airfields
Full 4 Channel Control with Steerable Nose Gear
Two Piece Wing for Ease of Transport & Storage
One Servo Per Aileron for Maximum Precision & Control
High Visibility Livery Pre-Covered in Polycote ECS
Rapid Bolt Together ARF Assembly Process
No Glue Construction Process
High Strength Balsa & Ply Construction

Required for Flight:

(1) 4+ Channel Transmitter
(1) Receiver
(2) Brushless Electric Motors
(2) ESC's
(5) Micro Servos
(1) LiPo Battery
(2) Propellers Matched to Motors

Included:

(1) VMAR DHC-6 Twin Otter ARF Kit
(1) Landing Gear & Wheels
 (1) Instruction Manual

Specifications:

Wingspan: 60.5" (1540mm)
Wing Area: 420 sq. in.
Weight: 3. 5 lbs. - 4 lbs. (1590g - 1814g)
Length: 49" (1270mm)
Transmitter: 4+ Channel
Servos: (5) Micro Servos (2 ailerons, 1 rudder, 1 elevator, 1 nose wheel)
Electric Power: (2) 250W - 400W Brushless Motors
LiPo Battery: 3S 11.1V - 4S 14.8V (2500mAh - 4000mAh)

Warranty Details:

All VMAR kits are trial fit at the factory and inspected to be free from defects & flaws in both material and craftsmanship at date of purchase. Warranty does not cover any components or parts damaged by use or modification. The pilot takes full responsibility for inspection of aircraft before and after each flight, making sure the aircraft is in flight worthy condition relating to safe control of aircraft. Warranty does not cover crash damage or failure of ancillary components unrelated to the aircraft.
People who bought this product, also bought