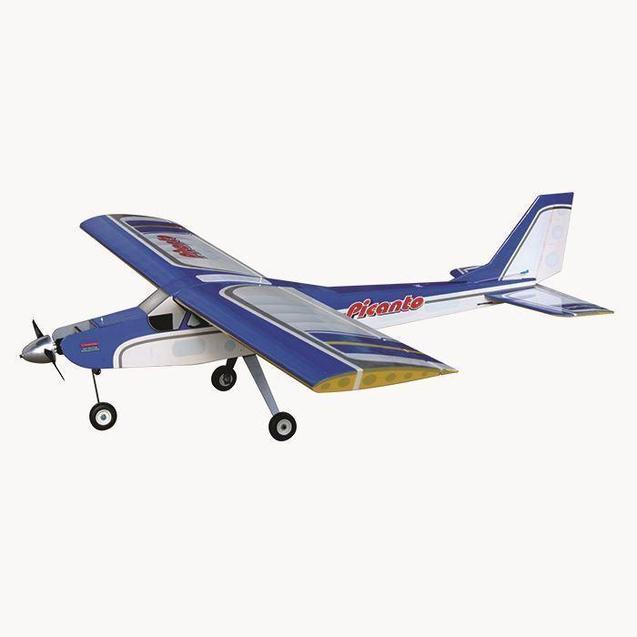 VMAR Picanto Plane Kit - Blue (64.7" Wingspan)
Quick View
VMAR Picanto - The Perfect High Wing Trainer.Excelling with a rock solid high wing design, the VMAR Picanto offers incredible stability and control, making this high wing trainer the perfect...

Vendor: VMAR
VMAR Picanto - The Perfect High Wing Trainer.

Excelling with a rock solid high wing design, the VMAR Picanto offers incredible stability and control, making this high wing trainer the perfect design for new pilots learning how to fly. Beyond beginner pilots, the Picanto rewards seasoned pilots with a fun and sporty flying style, with nimble flight characteristics to keep things interesting. Beginner or advanced, the Picanto fills the gaps nicely, providing big sky thrills paired perfectly with gentle flight characteristics.

Ultra easy to assemble with a bolt together, no glue assembly process, the VMAR Picanto makes building a breeze, with a fully covered Polycote ECS covering. Within just a few short hours, the Picanto can be fully assembled and ready for flight, allowing you to focus on the flights at hand versus tedious building at the bench.

Utilizing a traditional flat bottom airfoil for stability and predictable stall performance, the Picanto offers confidence inspiring flight characteristics, making this plane a joy to fly, no matter what your experience may be. With (1) servo per aileron for maximum levels of precision, VMAR offers exceptional functionality, with full 4 channel control for basic aerobatic flight capability. And when landings get rough, the Picanto shrugs it off with a shock absorbing landing gear system, making approaches and landings a drama free affair.

Designed to be powered via electric or glow based options, the choice of power plant is yours to decide, making the Picanto an ultra flexible aircraft that can adapt to the needs at hand. Making things even easier is the two piece wing design, allowing ultra easy transport and storage.

Whether you're new to flight or a seasoned hand in search of amiable flight characteristics, the Picanto delivers in spades, offering rock solid stability with a sport style persona. Perfect for an array of pilots, the VMAR Picanto is an excellent bang for the buck airplane that is easy to build, fun to fly, and rewarding for any pilot at the controls.


Features:

All Balsa & Ply Construction
Fully Covered in Polycote ECS Covering
Bolt Together, No Glue ARF Assembly
Excellent Low Speed / Stall Characteristics
Predictable Flat Bottom Airfoil Design
One Servo Per Aileron for Excellent Precision & Control
Two Piece Wing for Easy Transport & Storage
Ultra Strong Aluminum Wing Tube
Electric or Glow Power Ready
Large 64.7" Wingspan
Robust Shock Absorbing Landing Gear System
Classic Tricycle Gear with Steerable Nose Wheel
4 Channel Setup Simplicity
Ultra Low Cost Aircraft Design

Included:

(1) VMAR Picanto Kit
(1) Landing Gear System w/ Wheels
(1) Full Instruction Manual

Required for Flight:

(1) 4+ Channel Transmitter
(1) 4+ Channel Receiver
(1) Electric or Glow Motor
(1) ESC for Electric Power
(4) - (5) Standard Servos (2 Ailerons, 1 Elevator, 1 Rudder, 1 Throttle for Glow Applications)
(1) Propeller

Specifications:

Wingspan: 64.7" (1644mm)
Wing Area: 674 sq. in. (42.5 Dm2)
Length: 49.2" (1250mm)
Weight: 5 lbs. - 6 lbs. (2400g - 2700g)
Electric Motor: 700W - 1000W
Glow Motor: .40 - .46 2 Stroke / .48 - .70 4 Stroke
Servos: (4) - (5) Standard Servos
Battery: 4S 14.8V - 5S 18.5V (4000mAh - 5000mAh)

Warranty Details:

All VMAR kits are trial fit at the factory and inspected to be free from defects & flaws in both material and craftsmanship at date of purchase. Warranty does not cover any components or parts damaged by use or modification. The pilot takes full responsibility for inspection of aircraft before and after each flight, making sure the aircraft is in flight worthy condition relating to safe control of aircraft. Warranty does not cover crash damage or failure of ancillary components unrelated to the aircraft.
People who bought this product, also bought