Product Detail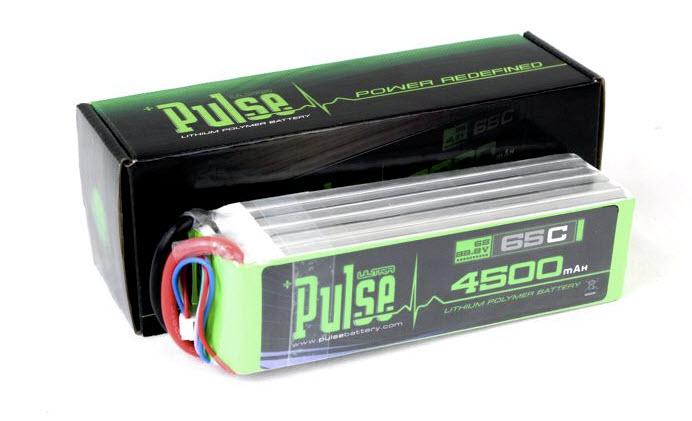 PULSE 4500mAh 6S 22.2V 65C - LiPo Battery
Quick View
Why Bert Kammerer fly Pulse Ultra Batteries?   Gemeral Description - Pulse Ultra Batteries - Power Redefined.Pulse Ultra Batteries have redefined the RC battery industry, with a goal to provide the...

Vendor: PULSE Ultra
Why Bert Kammerer fly Pulse Ultra Batteries?
Gemeral Description - Pulse Ultra Batteries - Power Redefined.

Pulse Ultra Batteries have redefined the RC battery industry, with a goal to provide the absolute pinnacle in lithium battery technology. After many years of outstanding success, Pulse Ultra batteries have lived up to their name in the RC industry, providing massive power & performance at cost levels simply unheard of with a battery technology of this capability.

Dedicated within the RC helicopter industry, along with a rapid advancement in the airplane & multi rotor segment, Pulse has quickly become the choice of pro level pilots and beyond, filling the flight line with pilots of all skill levels & demands.

Outfitted to perform, Pulse Ultra is the brand pilots search for, and when compared with other battery manufactures in the marketplace, Pulse continues to provide levels of quality, performance and power that outstrip all others.

Offered in a myriad of cell counts, capacities, C ratings and size ranges, Pulse Ultra batteries are set apart by 5C charge rates, large selection for all manners of aircraft, high quality construction, and a reputation that is true to form. Expanding even further, Pulse Ultra provides dedicated batteries for receiver applications, transmitter applications, airplane applications, and multi rotor applications as well.

Living up to the inherent quality Pulse Ultra is known for, each Pulse Ultra battery is equipped with a (90) day manufacturer warranty at the time of sale, proving how serious Pulse is committed to quality.

For the ultimate choice in battery technology for helicopter, multi rotors, airplane applications and more, Pulse Ultra lithium polymer batteries live up to their name, seen by many within the industry as the very best in lithium polymer power.


* True 5C Charge Rates
* Myriads of Voltages, Capacities & C Ratings
* 15C / 25C / 35C / 45C / 65C Layouts for High Power Demands
* Large Multi Rotor Packs Suited Specifically for Multi Rotor Demands
* Multiple Airplane Battery Applications Available
* Transmitter & Receiver Pack Options
* Large AWG Wiring for Maximum Power Applications
* Industry Standard JST/XH Balance Taps
* 90 Day Manufacturer Warranty from Point of Customer Purchase
Specifications:
Voltage: 22.2V

Cell Count: 6S

Capacity: 4500mAh

Discharge Rate: 65C

Dimensions: 150±2mm x 42

±2mm

x 45.5±1mm  (LxWxH)

Weight: 670 grams

Balance Tap: JST-XH
 Product Note: 
Suited to the following models: Goblin 500, Logo 600SE, Logo 500, GAUI X5,TREX 600, 2x Trex 700E, Avant eAurora90, Kasama Srimok 90E.
 
LiPo Safety, Warnings & Guidelines

Please be sure to read and fully understand the below safety guidelines associated with Pulse Ultra Lithium Polymer batteries, and also be sure to select the below hyperlink for a full / complete description of all necessary safety guidelines for all Pulse Ultra LiPo based batteries.

Pulse Ultra Complete Safety Document - Please Click Here

Product Note

The majority of Pulse Ultra batteries do not come with pre-soldered leads, although select few Pulse Ultra batteries in popular sizes do come with pre-soldered leads. Please be sure to select the battery connector of your choice for proper usage of this LiPo battery.

Limited Warranty

Pulse Ultra Batteries feature a (90) day warranty against any defective batteries manufactured, and warranty all manufacturer related defects or flaws within the noted (90) day warranty period.

Pulse Ultra insures that all packs are properly balanced, but please be sure to check your Pulse battery upon arrival for any faults, such as low voltage, cell imbalances, wiring related issues, or any other such defect. If any such flaws arise, Pulse Ultra will be sure to cover all claims for batteries purchased within the (90) day period. All warranty claims after the (90) day period of purchase will not be subject to warranty, so please be sure to carefully inspect your new Pulse battery upon arrival.

In terms of warranty, if any warranty related issues arise, or product flaws are seen, please contact the distributor / vendor your Pulse battery was purchased from, as the distributor will handle warranty related matters.


Pulse Ultra Batteries – Your Questions End Here.

Have a question regarding Pulse batteries? We have assembled a spread of questions that are commonly asked about Lithium Polymer batteries, along with Pulse batteries as well. Of course, if you don't find your answer here, feel free to drop us a line, as we are always happy to help.
 
Q: What is a "C" rating, and what does it mean to me?

A: "C" ratings are categorized in (2) areas – discharge rate, and charge rate. Pulse Batteries range from 15C, 25C, 35C, 45C, and 65C in discharge rates – this is based upon how much amperage can be delivered, or in simpler terms, how much power your battery has to give. The higher the "C" rating, the more power the battery can give out.

As for the charge rate (excluding receiver & transmitter battery applications), Pulse batteries are rated at 5C, which means they can be charged 5 times faster than a conventional 1C Lithium Polymer battery. In short, Pulse batteries can be charged at very high rates of power for rapid charge times, eliminating the wait time of conventional batteries that are limited to 1C.

Q: What is mah, or capacity, in terms of Pulse batteries?

A: "Mah" short for milliamp hours, is a reading of capacity, or how much energy the battery is able to store. Mah, or Capacity, directly relates to flight time, and indirectly relates to power output, as higher capacity batteries also have greater amperage to deliver, when asked to do so.

Q: How long does it take a Pulse battery to charge?

A: Considering Pulse batteries are rated at a 5C charge rate, if your charger can deliver the necessary amperage to charge at 5C, charge times can be as low as 15 minutes, depending upon the charger being used.

Q: How can I determine how many amps my Pulse battery can be charged at?

A: To determine how many amps you can safely charge a Pulse battery, a little math is in order. We will use a simple formula to determine charge rates - divide the "mah" of the battery by 1,000 (let's say a 2200mah battery), which comes to 2200 / 1,000 = 2.2. Now, multiply it against the "charge" rating of the battery, which in this case is 5C. So, in this case, we have 2.2 x 5 = 11.

So, if we have a 2200mah 5C battery (2200 divided by 1,000 = 2.2), we have 2.2 as our base number, which we then multiply against the charge rating of "5C" which gives us a number of 11 – (2.2 x 5 = 11). What this means is that at a 5C rating, a 2200mah Pulse battery is capable of being charged at 11.0A amps of power.